Visit of the 10th Primary School Halkoutsa @ ICT Lab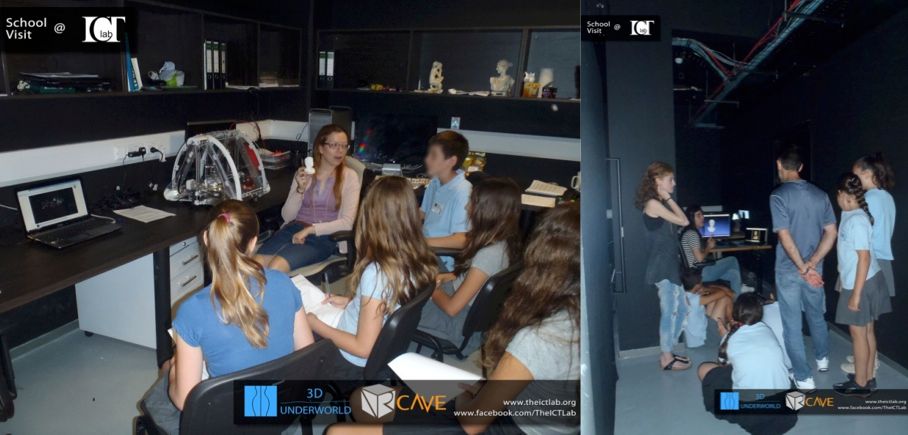 On Monday 26th and Tuesday 27th of May, the Immersive and Creative Technologies (ICT) Lab of the Cyprus University of Technology opened its doors to the 10th Primary School Halkoutsa, Limassol. During their visit, 50 6th-grade students had the opportunity to see, learn and experience some of the equipment and technologies currently developed and used for scientific research at the ICT lab.
More specifically, they learned about how objects can be scanned and replicated in 3D using the in-house 3DUNDERWORLD-SLS scanner. The 3DUNDERWORLD-SLS scanner consists of two SLR cameras and a consumer projector which are controlled by the open-source software developed at the lab – available for download at www.3dunderworld.org. The students then got the chance to see how the 3D scanned models can be reproduced using a 3D printer. Additionally, lab researchers delivered a short lecture for them to learn "What is scientific research".
Later, they learned about new interaction technologies such as Microsoft's Kinect and had the chance to experience body tracking and gesture recognition in a variety of games. In addition to the Kinect, they also had the chance to learn and experience our latest driving simulation equipment, currently used for research in assessing driving assistive technologies as part of the VR CAVE project
(www.vrcave.com.cy).
Finally, all students had the chance to experience virtual reality using the state-of-the-art VR CAVE. Various immersive virtual reality visualizations were demonstrated including a Virtual Reality Treasure Hunt Game taking place in a traditional Cyprus village. The virtual village was developed by Constantinos Terlikkas, an alumni of the ICT Lab. The game has been extended in order to support an experiment, which investigates users' preferred navigation method in immersive virtual environments.
Τη Δευτέρα 26 και Τρίτη 27 Μαΐου, το ερευνητικό εργαστήριο Immersive and Creative Technologies του Τεχνολογικού Πανεπιστημίου Κύπρου υποδέχτηκε του μαθητές της 6ης τάξης του 10ου Δημοτικού Σχολείου Χαλκούτσας, Λεμεσού. Κατά την επίσκεψη τους, οι μαθητές, είχαν την ευκαιρία να γνωρίσουν και να χρησιμοποιήσουν τον εξοπλισμό και τις τεχνολογίες που διαθέτει και χρησιμοποιεί το εργαστήριο για επιστημονική έρευνα. 
Συγκεκριμένα, έμαθαν για τη διαδικασία της τρισδιάστατης σάρωσης (3D Scanning) με τη χρήση του σαρωτή 3DUNDERWORLD-SLS. Ο εν λόγω σαρωτής έχει αναπτυχθεί από τους ερευνητές του εργαστηρίου και αποτελείται από 2 κάμερες SLR και ένα προβολικό (projector), τα οποία ελέγχονται από λογισμικό ανοιχτού κώδικα, διαθέσιμο στη σελίδα www.3dunderworld.org. Αφού παρακολούθησαν την διαδικασία της σάρωσης, οι μαθητές, έμαθαν για τη διαδικασία εκτύπωσης των τρισδιάστατων μοντέλων, που έχουν σαρωθεί, με τη χρήση τρισδιάστατου εκτυπωτή. Επιπλέον, τα μέλη του εργαστηρίου έδωσαν μια σύντομη διάλεξη για να τους περιγράψουν τί είναι Ἑπιστημονική Έρευνα῾. 
Στη συνέχεια, ενημερωθήκαν για νέες τεχνολογίες διάδρασης όπως το Kinect της Microsoft, όπου τους δόθηκε η ευκαιρία να δοκιμάσουν παιχνίδια με body tracking και gesture recognition. Επίσης, δοκίμασαν εξοπλισμό προσομοίωσης οδήγησης, ο οποίος χρησιμοποιείται από τους ερευνητές του εργαστηρίου, ως μέρος του προγράμματος VR Cave (www.vrcave.com.cy), για αξιολόγηση διαφόρων βοηθητικών τεχνολογιών οδήγησης, όπως συστήματα πλοήγησης GPS.
Τέλος, οι μαθητές είχαν την ευκαιρία να βιώσουν την εμπειρία της εμβύθισης σε εικονική πραγματικότητα μέσα στο VR Cave. Μεταξύ άλλων προσομοιώσεων, οι μαθητές δοκίμασαν και ένα παιχνίδι κρυμμένου θησαυρού μέσα σε εικονικό παραδοσιακό κυπριακό χωριό. Το εικονικό περιβάλλον του χωριού αποτελεί μέρος της δουλειάς του Κωνσταντίνου Τερλικκά, πρώην μέλους της ομάδας του εργαστηρίου. Το περιβάλλον αυτό επεκτάθηκε και πήρε μορφή παιχνιδιού με σκοπό να βοηθήσει τους ερευνητές να μελετήσουν ποιά μέθοδο πλοήγησης προτιμούν οι χρήστες για συστήματα εμβύθισης σε εικονική πραγματικότητα.