The Immersive & Creative Technologies Lab (ICT lab) was established in late 2011 as a premier research lab, committed to fostering academic excellence, groundbreaking research, and innovative solutions within the field of Computer Science. Our talented team of researchers concentrate on specialized areas such as computer vision, computer graphics, virtual/augmented reality, and creative technologies, while exploring their applications across a diverse array of disciplines.
At the ICT Lab, we strive to achieve ambitious long-term objectives that are centered around the development of highly realistic virtual environments. Our primary objectives include (a) creating virtual worlds that are virtually indistinguishable from the real-world locations they represent, and (b) employing these sophisticated digital twins to produce a wide range of impactful visualizations for various applications. Through our dedication to academic rigor, inventive research, and creative problem-solving, we aim to propel the boundaries of technological innovation and contribute to the advancement of human knowledge.
The figure below summarizes the active areas of investigation.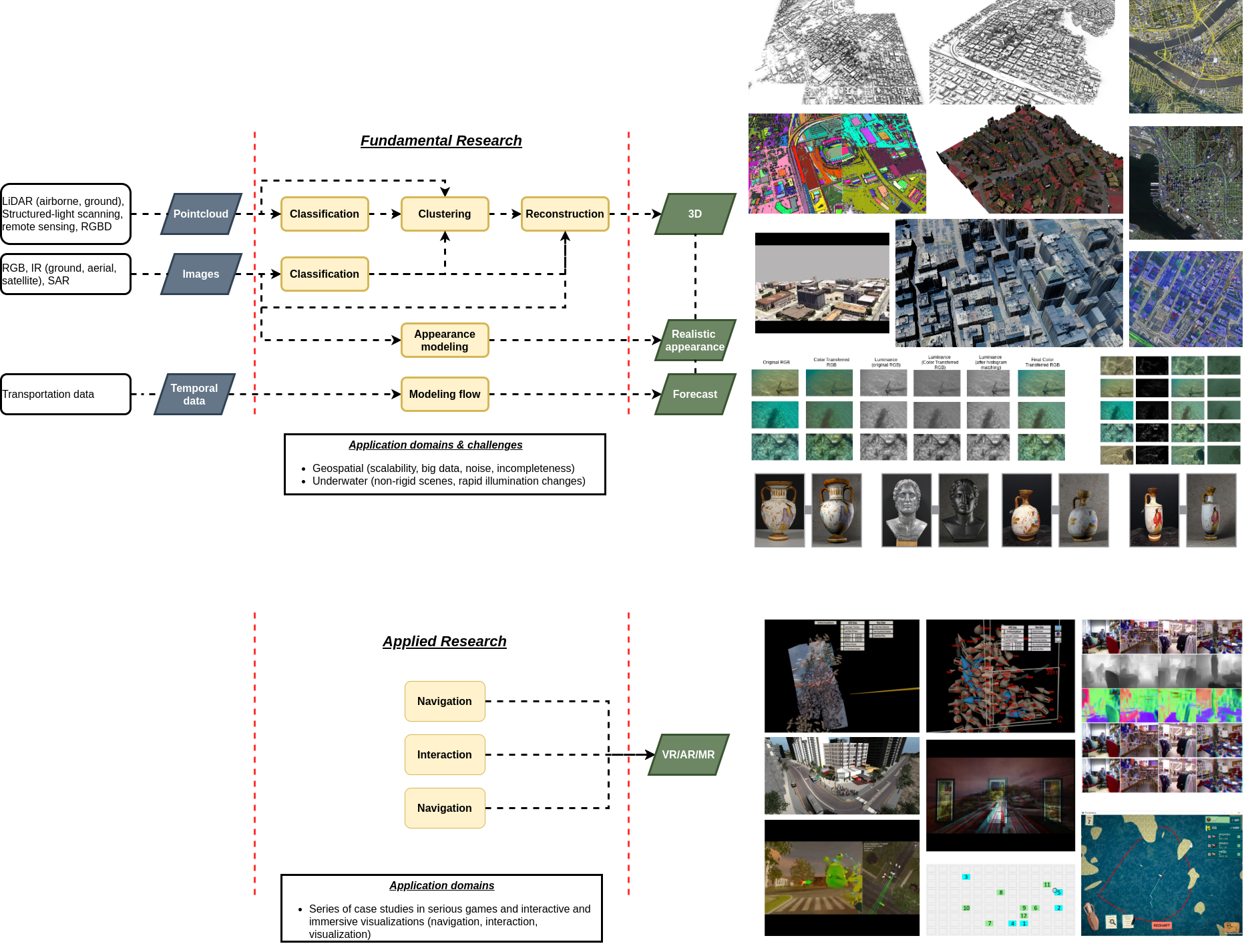 New knowledge and other research outcomes resulting from the research at the ICT lab are disseminated through teaching, research projects, and collaboration with the industry.
Student Concentration
Since 2015, the ICT lab has been attracting students with a background in Computer Science and Engineering. Prior to 2015, the ICT lab included students from Media Arts and related disciplines.
Equipment
The ICT lab is equipped with high-end workstations and data acquisition devices (active and passive sensors), VR and AR equipment, and has access to other cutting-edge devices such as 3D scanners, motion-capture, biopak, GPU cluster, etc.
Join Us
We are always looking for highly motivated and creative individuals who enjoy working in a collaborative research environment. Good communication skills and fluency in English are required. Applicants should have strong academic training, including an undergraduate or graduate degree in a relevant discipline, i.e. computer science, electrical engineering, mathematics, or statistics, and have excellent mathematical skills. High proficiency in scientific coding, i.e. C++, C, Python, OpenCV, OpenGL and Matlab is desired. Having experience with 3D computer vision, robotics, or a related area and a background in machine learning techniques is desirable and will be considered a plus.
If you are interested in joining the group please contact Charalambos Poullis.
Visit Us/Tours
We welcome visits from students, researchers, artists, and industries who are interested in our work. If you are interested in visiting the lab please contact us to state your purpose and book an appointment.