Join us at the 2nd International Colloquium on Stereoscopic, Virtual & Embodied Practices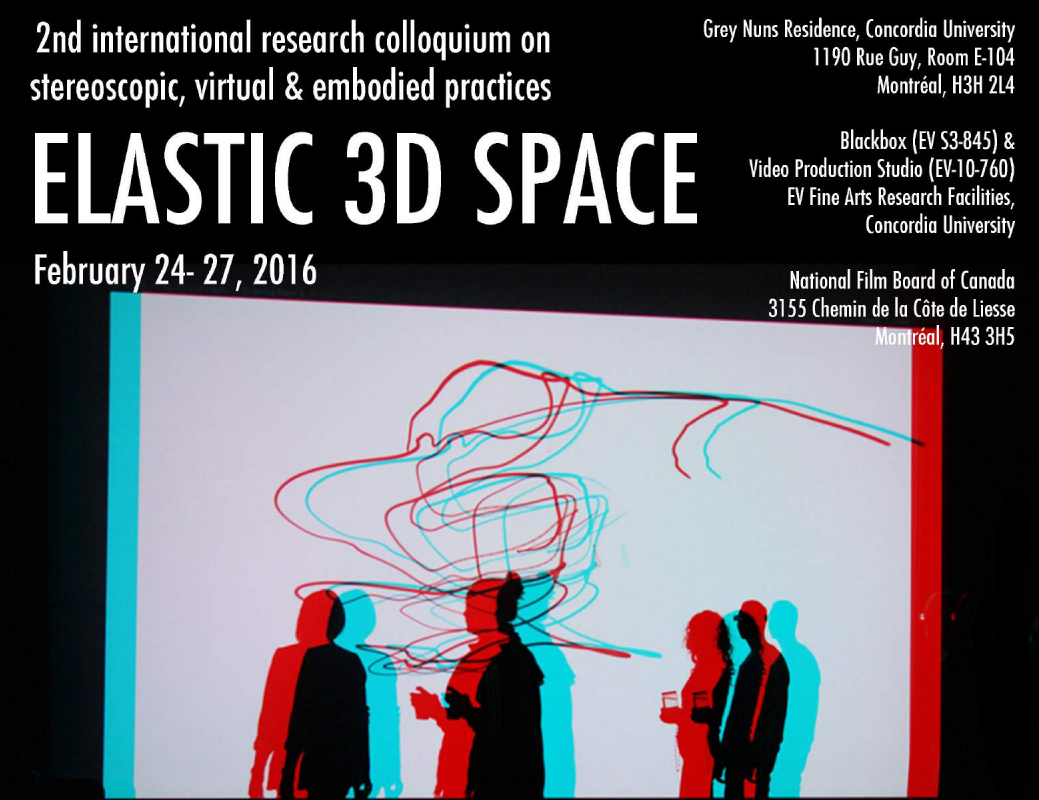 During a four-day international research colloquium from February 24th to 27th, 2016, the Elastic 3D Space group of Researchers, lead by Artists, Designers and Computer Scientists, will explore the potential of stereoscopic technologies with artistic practices. This event brings together over 15 researchers, artists and industry experts to share their research explorations on elastic space, and augmented and virtual reality, and future reality within multiple disciplines from six Universities Art Departments, two cultural production and exhibition sites, along with departments of Computer Science and Software Engineering, Architectural History, and Performance Studies and Design across three continents.
The February 24-27 event will start with a day of presentations including a walking tour in the afternoon, followed by three days of a workshop research exchange, with hand-on workshops, a session at the National Film Board stereoscopic studios, roundtable discussions, 3D drawings demos and virtual drawing prototypes.
This exchange will focus on both the technical exploration of stereoscopic technologies and software, while questioning its perceptual effects. It will deeply investigate the way our bodies relate to our built environment and interact within the illusory elastic 3D space.
There will be two keynote speeches by Ken Perlin, and Dorita Hannah
Keynotes: Elastic 3D Space Keynotes
Program: Elastic 3D Space Colloquium
Newsletter: newsletter